Miriah Rutledge - Class of 2009
Posted by Methacton School District on 9/24/2021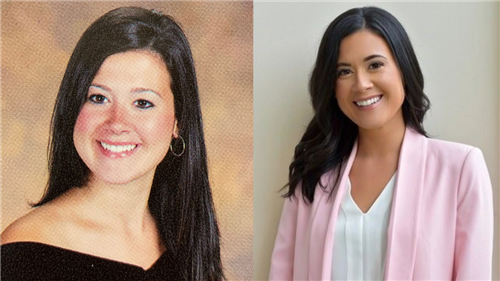 As a 2009 graduate of Methacton High School, Miriah Rutledge had her aspirations set on a career in teaching as she pursued an English Education degree from Penn State University. Miriah recalls being shy and uncertain about her academic abilities during her high school years. However, she credits her AP English teacher, Ms. Welsh -- who also served as the Theater Director at the time -- with providing Miriah with the self-confidence and belief in herself to be successful. Miriah said that Ms. Welsh provided perspectives that took into consideration the attention to life's many moral and ethical considerations.
"Ms. Welsh had the compassionate ability to demand high-quality work in a supportive way. She saw me, believed in me, and inspired me to be a better person."
Miriah also has a fond appreciation for how involved parents, teachers, school administration, and our community were in creating such a positive Methacton experience, especially around Post Prom time. "Methacton was where I started to learn my purpose and I feel grateful for that," she said.
Having been the first in her family to graduate from college, Miriah most recently decided to pursue a career in counseling after earning a Master of Arts in Marriage and Family Therapy from La Salle University. She is now a successful entrepreneur who serves as a licensed Marriage and Family Therapist at her private practice Choosing Change Counseling in King of Prussia.
"I've been particularly proud of my work with providing pro bono and reduced rate services to individuals and families in need during the pandemic."
She is looking forward to expanding her business with upcoming events in the community and at her practice this Fall.