May 2021 Community Conversations
Posted by Methacton School District on 5/27/2021

Dear Methacton Families,
I hope you and your family are doing exceptionally well! As we approach this Memorial Day weekend, let's all take a moment to remember the true meaning of Memorial Day. It is an opportunity for each of us to remember and honor those who have given the ultimate sacrifice while serving in the military, while serving our country, and while serving to protect our freedoms and liberties.
In addition, this weekend unofficially marks the beginning of summer. While there are about 3 weeks of school remaining -- I just want to thank our students, families, staff and community for everything you've done to make this an extraordinary year!
A few other important notes:
The 2021-2022 school year will be in-person. All K-12 students will automatically be scheduled for Monday-Friday in-person learning. Parents/Guardians seeking an online alternative should read the 2021-2022 Instructional Guide prior to completing the required Online Learning Request Form in the PowerSchool Parent Portal between June 1, 2021 through June 7, 2021.
May is Mental Health Awareness Month. It is important for all of us to maintain our health and wellness. We have complied some mental health resources that you can review here.
Now let's take a look some of the outstanding events and achievements that took place across the district in May.
---
DISTRICT-WIDE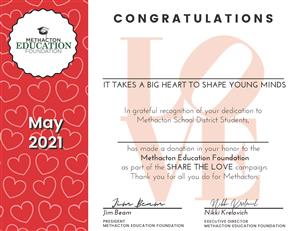 The month of May was a celebratory one across the school district. We celebrated Teacher Appreciation Week, which began May 3rd through May 7th. To end that week, members of the Board and the Methacton Administration surprised the staff at each building with a water ice celebration at lunchtime. Our school community also stepped up in a big way to show their support of our teachers through the Methacton Education Foundation's SHARE THE LOVE campaign, which raised more than $5,000 for Methacton Schools. We thank our teachers for all they do to prepare the next generation of learners and for sharing their talents with our school community today – and every day!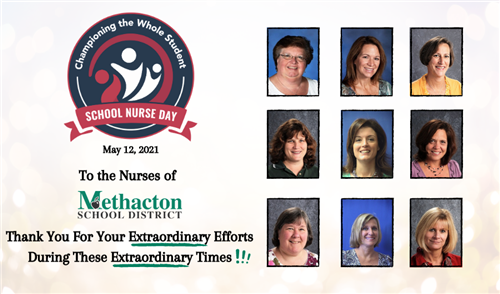 The district hosted a surprise awards ceremony to celebrate the nursing department on May 12, which was also School Nurse Day. Our school nurses are: Kelly Benarick, Joni Cosgriff, Annette Cramer, Jodi Lattanze, Valerie Lozinak, Kimberly McDonald, Cheryl Peiffer, Mary Thomas, and Kathy Thompson.
Our nurses were each presented with awards for EXCELLENCE IN NURSING and certificates of appreciation for their extraordinary efforts during these extraordinary times. Mrs. Peiffer, the district's Nursing Services Coordinator, received the Leadership Award for Excellence in Nursing.
Skippack Pharmacy held a vaccine clinic for those 12 and older at Methacton High School on May 26. More than 160 people were vacinnated during the clinic. A special THANK YOU goes to all of our nurses, and adult and student volunteers who worked together on this very successful event.
Methacton's 3rd and 4th Grade musicians performed in their Virtual Spring Concert on May 26. Watch: https://youtu.be/3jEaDH1lU4s.
ARROWHEAD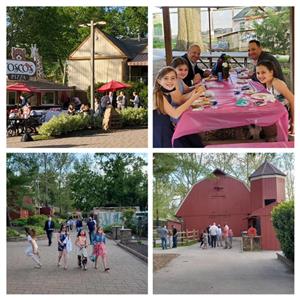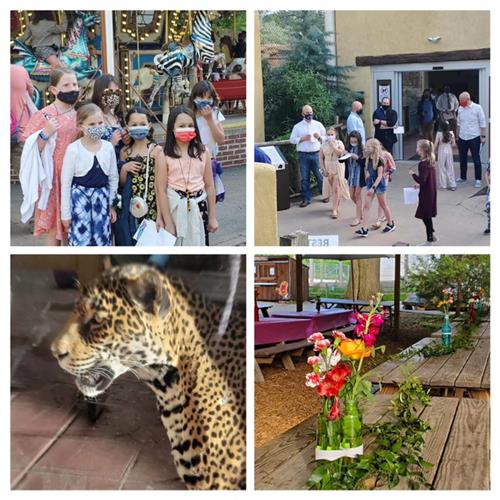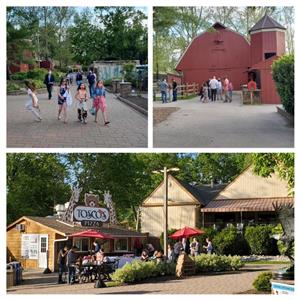 Thank you to the Arrowhead Home and School, along with Elmwood Park Zoo, for planning and hosting this year's Arrowhead "Maskerade". The event was held for former Arrowhead (current 5th grade) students as well as our 3rd and 4th graders. The weather, festivities, and food were perfect. As you can see from the photographs, everyone had a wonderful time. What a great evening!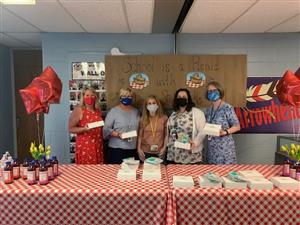 Arrowhead celebrated Teacher Appreciation Week with a delicious lunch provided by the Arrowhead Home and School.
We're getting a clearer picture of the new Arrowhead Elementary. Steel beams were put up this month and we can really start to see the building outline. The video below captures some of the steel beam installation taking place: https://www.youtube.com/watch?v=75wn6mgd7MU
EAGLEVILLE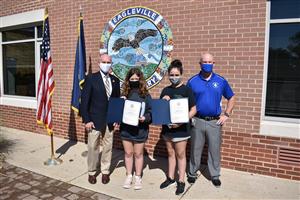 Congratulations to Cameron Polen and Natalia Cordero for receiving Citizenship Awards from State Representative Joe Webster in recognition of their outstanding contributions to the Eagleville School and Community.
Our Eagleville Home and School recognized our teachers with a little treat every morning during Teacher Appreciation Week.
Our school nurse, Annette Cramer, was recognized along with the other Methacton School Nurses during National School Nurse Day. Mrs. Cramer has done such a fantastic job keeping our school safe during an exceptionally tough year. https://youtu.be/e6u9J61x8Qk
In honor of Arbor Day, our Environmental and Art clubs held a tree planting ceremony https://youtu.be/PathshkZxg8
WOODLAND
May was a busy month at Woodland. We hosted our second annual virtual variety show. We had about 70 acts submitted. The community has enjoyed watching the diverse talents of Woodland Students. Teachers are also playing videos of their students during the school day.

Click Here!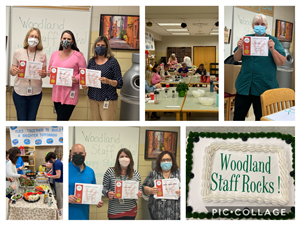 During Teacher Appreciation Week, the Woodland Staff enjoyed a hot lunch of Mexican food from our Home and School, Rita's water ice from the Methacton School Board, and many certificates for "Show the Love".
With our focus on kindness, our fourth graders made this book reading to share with all Woodland Families. What an important message!
https://drive.google.com/file/d/1F0qnDnC_xLQfxEcVUcKgvLDKl0zY0r6n/view
Each of our grade levels have created a special dance. These videos were created by the students but put together by Mrs. Engler, Woodland's music teacher. This month it was our kindergarteners who danced! https://youtu.be/opxuJy04J8c
WORCESTER
This month, Worcester's Home and School Association provided many special treats for Teacher Appreciation Week. The staff enjoyed raffle baskets donated by parents and local businesses, and concluded the week with a delicious lunch. Teachers and staff also enjoyed talking with Mrs. Perdue while enjoying their delicious water ice.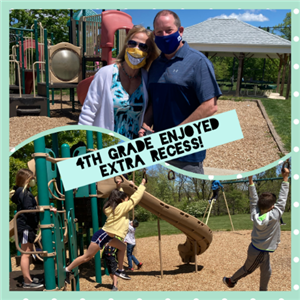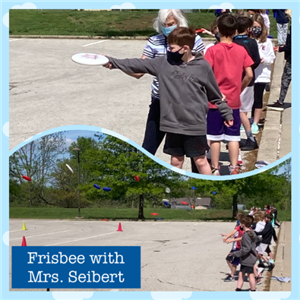 Many students enjoyed the nice May weather and some teachers even took their teaching outside.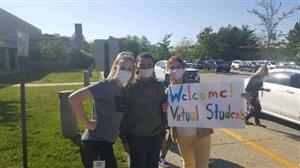 This month we also welcomed back virtual students that came to school to take their PSSAs. It was great to see our online students!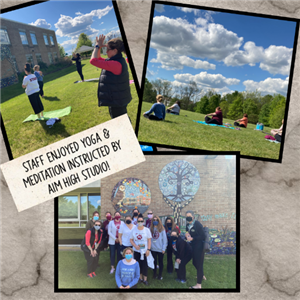 Worcester Staff was treated to a yoga/meditation session. The session was taught by an Aim High Studio instructor onsite at Worcester. It was a relaxing and fun time for all of us!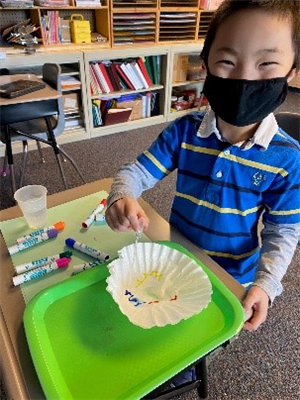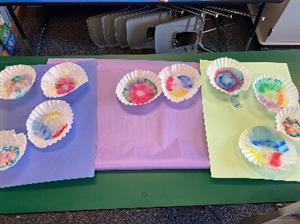 Mrs. Santucci taught her Challenge students about Chromatography. They predicted what color inks are used in different color markers. The result was beautiful!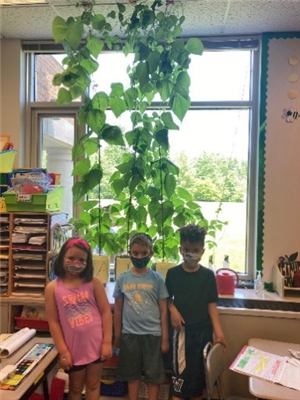 Worcester's first grade classes are growing bean plants! Students are wondering how tall their plants will grow!
SKYVIEW
Skyview Environmental Club Courtyard Clean Up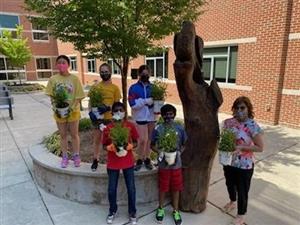 The Skyview Environmental Club, under the direction of Mrs. Leslie Kulp, worked in the Skyview courtyard this month. Students weeded the flower beds and planted perennial flowers.
Fifth Grade Social Studies Virtual Field Trip
This year, 5th grade Social Studies classes have participated in virtual field trips to the Museum of the American Revolution. Sessions have included Thinking Like a Historian and Women in the American Revolution.
Mrs. Kim Nominated for Citadel Heart of Learning Award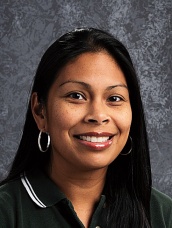 Mrs. Cynthia Kim, 6th grade teacher on Team USA, was nominated for the Citadel Heart of Learning Award by her student, Tyler Panetta. This award aims to recognize local teachers who show dedication in and outside of the classroom.
Welcome Mrs. Berical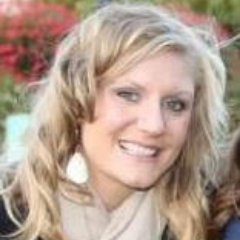 Skyview welcomed Mrs. Nicole Berical as Principal on Monday, May 24th. Mrs. Berical comes to Methacton with leadership experience in the North Penn School District. She takes over the T.R.R.F.C.C Skyview community from Mrs. Melissa Gorla who has moved to the district office as Supervisor of Secondary Education.
ARCOLA
Shout-out and special thanks to:
The Arcola office staff - Sophie, Caroline, Aimee and Kathy for all your preparation for our staff and students on all testing days.

Our virtual families/students: It was wonderful to see all of you on site at Arcola, great job!

Arcola staff for staying the course and being present for all of our students!
The Arcola Orchestra and Arcola String Ensemble recently hosted their Spring Concert in a virtual venue. Their hard work was clearly on display as our student-musicians put on a lovely show. Click the link to listen: audio; program.
MHS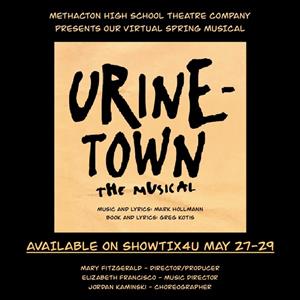 Grab your tickets for the Methacton High School Theatre Company's presentation of "Urinetown – The Musical". Show dates are May 27, 28, and 29. Tickets are available for streaming: https://www.showtix4u.com/event-details/50702.
Special recognition goes out to the Theatre group seniors. Pictured L-R (Top Row): Julia Brady, Jackson Fisher, Maria Coyle, Jordan Kaminski; (Bottom Row): Lindsey Reid, Paige Brady, Thy Nguyen, LJ Paone.
Playbill: https://www.playbillder.com/show/vip/Methacton_High_School/2021/Urinetown_The_Musical_93906
Presenting the 2021 Methacton High School Art Show: https://bhall12268.wixsite.com/my-site-1​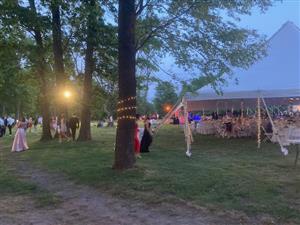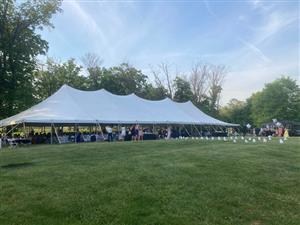 The senior class had an amazing time at their senior celebration! Thank you to the Kleckner family for hosting us at Linfield National Golf Course. The students had a wonderful time celebrating with classmates with food trucks, yard games, a comedian, balloon artist, and caricaturist. We extend our sincere thanks to Mrs. Fabrizio and Mrs. Alderfer, and to the Post Prom for their help in making this such an amazing night.
---
OUTSTANDING WORK, Methacton! Have a safe and healthy Memorial Day weekend!
Sincerely,
Dr. David Zerbe
Superintendent of Schools