February 2021 Community Conversations
Posted by Methacton School District on 2/26/2021
Good Afternoon Methacton!!!
Sun is shining! Snow is melting! So get outside and enjoy the weather…but first please read this:
BIG SHOUT OUT TO… our support staff, teachers, and administrators on the implementation of the blended learning 4/1 program. We have 64 percent of our K-6 student body in person 4 days per week with an all virtual Friday. Reminder that the 7-12 4 day per week program deadline for selection is Sunday, February 28 at noon.
COVID-19 Assurance Testing is conducted each Friday in each school beginning with Eagleville and the High School on February 26. Bus Drivers and Food Service workers have access starting March 2 with a roll out in all schools in the next two weeks. This is just another way to help keep things safe!!!
The Diversity, Equity, and Inclusion kick off meeting was held on February 17, 2021. We had 113 participants and received approximately 85 applications for the 30 open DEI District Committee spots. Follow our progress.
Planning is already under way for next school year. I will be providing the Board with a plan in May for the model. I will share that the only reasonable pathway forward to realizing a more traditional in-person experience is through changes to the distancing requirements. The current medical community recommendation of 6 feet is likely to be reduced/relaxed as more people get vaccinated, we continue with assurance testing, we maintain masking and the other health and safety measures. We will have our first discussion on the matter at the Education Committee meeting of the Board scheduled for March 2, 2021 beginning at 6:30PM. To join us, please go here: https://www.methacton.org/Page/584
While we have to continue to manage COVID-related matters, my team and I are actively focused on the future of Methacton. As such, I will be sharing a 2-year plan keeping to our mission and the vision to ensure an exceptional Methacton School District experience for all. I will be presenting this plan at the April 20 working session of the Board of School Directors. This plan will include a revival of the strategic planning process with community-wide stakeholder input/focus groups, etc., some new programs and services with focus on the whole child.
Now Let's Take a Look At Some Truly Amazing Work:
ARROWHEAD
Arrowhead Celebrates Doctor Seuss' Birthday
Each year for Doctor Seuss' birthday, our Arrowhead Home & School and Arrowhead Teachers provide each student with a new book! The RIF (Reading is Fundamental) Program is one of our favorite events each year.
Arrowhead's 3rd Annual Kindness Project
Students created hundreds of handmade cards that were delivered to residents at Providence Place at the Collegeville Inn and The Landing at Collegeville. They also donated word search games, puzzles and adult coloring books for residents to enjoy. https://youtu.be/b_ZCHOX8mfc
Arrowhead Students and Staff Recently Celebrated "100 days of School!"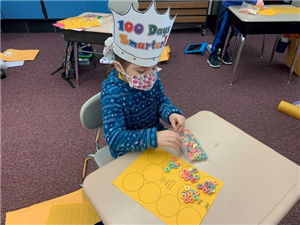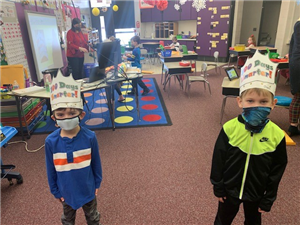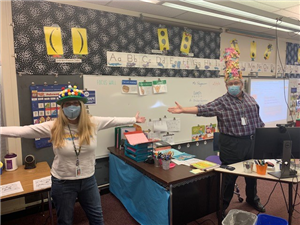 EAGLEVILLE
School Safety Patrol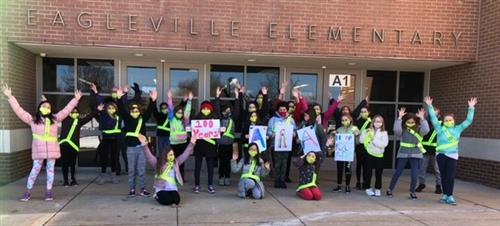 The Eagleville Elementary School Safety Patrol (pictured above) is still going strong! Thirty-two dedicated students have attended virtual meetings to learn about leadership skills while attending school virtually until they were able to attend school in person. When returning to school, safeties had some new duties including reminding peers to social distance, wear masks and use hand sanitizer. We appreciated the addition to their uniform of Safety Patrol Masks provided by AAA. Safeties that attend school virtually were still able to help by making posters to hang around the school and make some video reminders of safe behaviors to share at morning announcements for the school. Not even a pandemic can stop the safety patrol from keeping our students safe!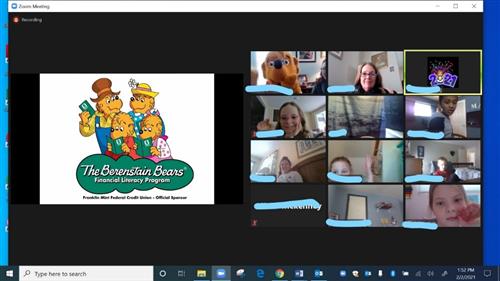 New this year, the Franklin Mint Credit Union came to visit 3rd graders in Mrs. Wittenberg's class virtually for a trip they missed last year. During this exciting exploration of careers with money, students were able to learn more about earning, spending, saving and sharing money. They also had a special visitor, Sister Bear from the Bernstein Bears (pictured above).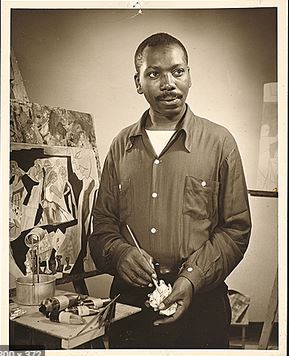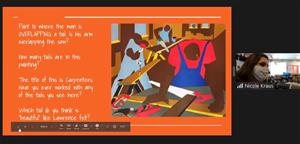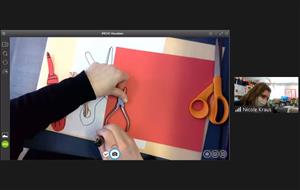 For Black History Month, Mrs. Kraus and second grade students were drawing tools to honor Jacob Lawrence (pictured above left) who often included tools working in his art.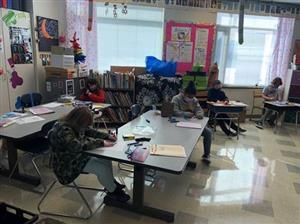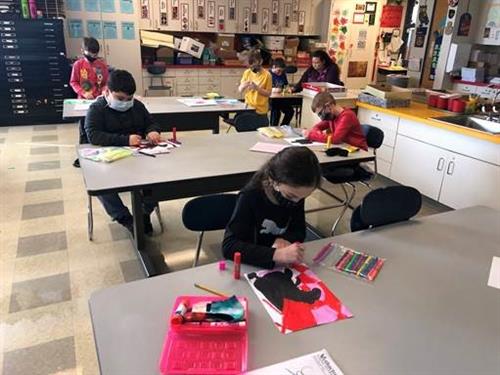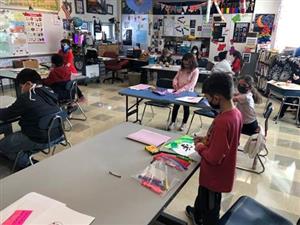 3rd graders learned about the Art of Harlem Renaissance Painter Aaron Douglas and created their own art in his style. Pictured above are students experimenting with Paint Kwik Sticks….they LOVED THEM!
Mrs. Coghlan and a third grade student collaborated together to create a musical YouTube video of a song-tale frequently shared in music class: "There Was a Man And He Was Mad" https://youtu.be/pv4D3UZJZqo
WOODLAND
Woodland's music teacher Andrea Engler, creates these amazing dance videos starring Woodland students and staff. Here is her latest creation: https://www.youtube.com/watch?v=y-CpQ0lXBnU​
Woodland First Grader, Aahana Gupta, has been making cards for senior citizens on various occasions! Aahana's name and pictures have been featured in the Times Herald!
Read it here: https://www.timesherald.com/news/optimist-club-sponsoring-valentines-for-meals-on-wheels-clients/article_0afa1000-5d00-11eb-a16b-535e7475fa18.html
Aisha Vadassery, first grader, wrote a question about coronavirus and it was picked up by NBC Nightly News to be featured on their show "NBC Nightly News: Kids Edition!" Link for show episode and Aisha's question is at 9.35 minute mark: https://youtu.be/zWLPjM-b0YY
Woodland is hosting its first virtual Science Fair on 3/12/21. Students are creating one-minute "teaser" videos to be played over morning announcements!
WORCESTER
Worcester was thrilled to welcome nearly 80% our students to 4 day in person learning earlier this month. Our virtual students are also staying engaged during their classes at home.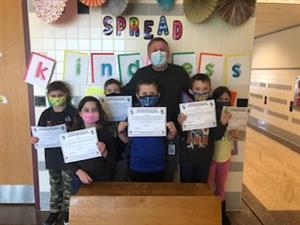 February 25th was a Celebration Day at Worcester Elementary School as Principal Feeley announced the winners of February's Wolf of the Month commendations. This commendation is bestowed upon a hard-working student who shows kindness, is a good friend, follows school rules, shows leadership and is a role model to others. Five of our 7 winners are pictured above with Mr. Feeley. Congratulations to these outstanding Worcester students.
SKYVIEW
Black History Month at Skyview
The Skyview community has celebrated Black History Month this February with a variety of activities. In addition to subject-area based activities, students have volunteered to research and create presentations on famous Black Americans to be included as video announcements to the school community. Here are examples of their videos:
https://youtu.be/7F0XhETbtrg (Ruby Bridges)
https://youtu.be/YZcbPhbPw2g (Maya Angelou)
https://youtu.be/LKwxBng92Pg (Kobe Bryant)
During the first week of March our volunteers will be sharing famous Black females in honor of the start of Women's History Month. Students will also be tasked by Mrs. Gorla, Ms. Otero, Mrs. Hadrick and Mrs. VanBuren to listen to Amanda Gorman's poem, "Talking Gets Us There" and reflect on the spoken word piece.
Have you ever driven on the Skyview/Arcola campus and witnessed the deer in the field? Methacton High School Student Melinda Jin created a display for Skyview (pictured below) after attending the Wildlife Leadership Academy last summer.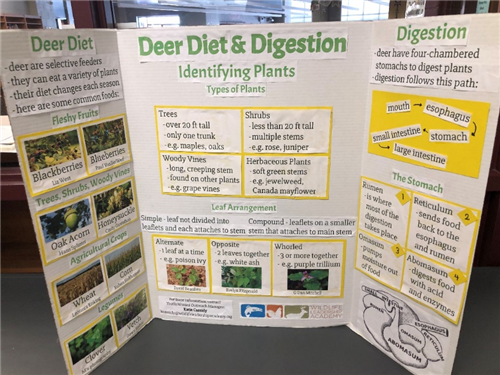 Kindness – pass it on! Mrs. VanBuren, 5th grade counselor, connected with the Lower Providence Optimist Club to have students make Valentine's Day cards for the Meals on Wheels program. Many thanks to our students who volunteered to spread kindness to our community!
ARCOLA
Giant Surprise
On February 9th, Giant Food Stores in Audubon surprised the cafeteria staff with balloons, a cookie tray and a thank you card to recognize them for all of the hard work that goes into feeding our students during the pandemic. On February 8th the Arcola/Skyview staff prepared, packaged, and distributed 4,000 meals during their weekly curbside distribution! The cafeteria teams at each school building also received balloons, a cookie tray, and a thank you card as well! We congratulate them on their recognition. Thank you to Chris Koch (Store Manager) and Megan Giuliano (Asst. Store Manager of Customer Experience) of GIANT Food Stores in Audubon for selecting Methacton School District in their campaign to recognize local heroes doing great things in the community.
Arcola Planetarium
On February 18th, Mr. Adam Chantry, Arcola's Mallon Planetarium Director, invited everyone to tune in to watch the livestream of the landing of the Mars 2020 Perseverance rover. Participants were invited to ask Mr. Chantry questions during the landing via chat.
Arcola's Kudos
8th grade English students are actively engaged in a research paper project. Students are doing amazingly well on note taking, as they gather research about an individual of their choice who has somehow impacted society. Students are taking comments and feedback and are growing in their note-taking skills! Way to go!
Arcola News Journal - WOW to the amazing group of students running our show this year and keeping us informed.
Nurse Cosgriff is truly assisting and doing an exceptional job keeping us all safe and informed.

Tara Eison

is the Arcola rep for the DEI Leadership team - thank you!
7th grade teacher Katlin McKeon started a teacher rejuvenation room to help support staff, keep them motivated and find ways to seek balance.
METHACTON HIGH SCHOOL
Five Methacton High School students (pictured above) representing the Class of 2021 have been named Finalists in the prestigious National Merit Scholarship Program. They are: Alec Chang, Claire Chen, Jeffrey Gong, Angela Li, and Tam-My Pham. Finalists compete for $2,500 Scholarships. They are evaluated on their academic record, accomplishments, and potential for success in rigorous college studies among other criteria.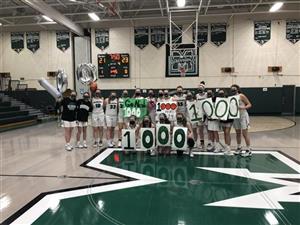 Congratulations to Methacton High School Junior Nicole Timko! She scored her 1,000th career point during the Warriors' February 9, 2021 basketball game against PJP. Nicole is the second junior in the school's history to earn this milestone as a Lady Warrior. Girl's Basketball Coach Craig Kaminski netted his 300th career win on February 17th when the Warriors defeated Upper Perk.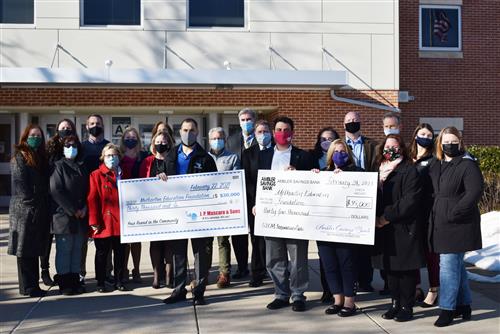 STEM Innovation Lab check presentation (pictured above) – The Methacton Education Foundation has gifted MHS $220,000 to fund two innovative new STEM labs: a hydroponic freight farm and a forensic and biochemistry lab. Thank you to the Methacton Education Foundation, Ambler Savings Bank, and J.P. Mascaro & Sons for the financial support, and to Mr. Savitz, Mr. Walton, Mrs. Murray, Mrs. Palmer, Mrs. Griffith and Ms. Alveranga for their time, efforts and creativity and for making this project a reality!
Bruce Outland has been invited for the third year in a row to be a Question Leader at the AP Chemistry Reading through College Board - a tremendous honor!
MHS Virtual Art Gallery - MHS Art Department has put together an amazing online gallery highlighting our students' art successes and achievements. Thank you to our art department for putting this together for us! Methacton High School Virtual Art Gallery
The Class sponsors are hard at work putting together events in the spring for the student body. Details to follow in the coming weeks!
Methacton High School Senior and Black Student Union President Steven Cadogan represented Methacton High School at State Representative Joe Webster's virtual town hall, "Making American History and Honoring Black Legacies" on February 25. The virtual forum served as a springboard for ongoing conversations about equality and equity and for expansion of educational opportunities that more thoroughly and honestly cover our nation's diverse history. Watch here: https://www.methacton.org/Page/753
The Methacton Backpack program continues to provide bi-weekly weekend meals and snacks to families through our snack backpack program. Volunteers Gabby Winters and Liz Drummond have organized this amazing program and have given out hundreds of bags to families this school year. In addition to food, the program distributed winter coats in December, held an MLK Day of Service Food Drive in January, and will be distributing toiletries in March.
Sophomore Christopher Groff broke the pool record in the 100 Backstroke with a time of 52.74 seconds.
Sophomore Christopher Groff, Junior Dylan Phan, Junior Tommy Gibbs, and Senior Jan Perez-Bonilla broke the pool record in the 200 Medley Relay with a time of 1:38.21.
What OUTSTANDING news to wrap up the month!
Sincerely,
Dr. David Zerbe
Superintendent of Schools