January 2021 Community Conversations
Posted by Methacton School District on 1/29/2021
Dear Methacton Community,
I hope that this message finds you and your family you doing well. The Methacton School District, like all school districts in the Commonwealth, has had a challenging year navigating the pandemic. The uncertainty, fear, politics, science, health and safety, emotions and (add your own words here) are real and have played a part in how each of us have responded and how each of us see the pandemic, the associated risks and challenges.
However, even during all of these challenges, there have been so many amazing accomplishments, some extraordinary events, and a growth in all of us as a community.
As an example - The Arcola Connection Club, on January 15 assembled one hundred sock rolls for the homeless as part of the MLK Day Sock Roll Challenge sponsored by The Giving Tree, and how about Arcola's National Junior Honor Society annual "Reading to First Graders" service activity to continue this extraordinary cross-generational learning activity.
With the leadership of our Athletic Director, Dr. Paul Spiewak and the extraordinary support from the Board of School Directors, a health and safety plan was implemented allowing coaches, student athletes and parents an opportunity to continue with pre-season and in-season workouts and competitions. Compared to a number of school districts across our region, Methacton student athletes and activity participants (band and clubs), from day one of the school year, have enjoyed access to extra-curricular activities.
Skyview Upper Elementary established a Virtual Mentor Program 8th period where Methacton High School student volunteers support Skyview students with homework, classwork, and general study habits. Led by school counselors and teachers at the high school and Skyview, we are seeing encouraging results with the implementation of model of support.
Character Counts week (October 19-25) saw Skyview students take part in producing a digital flag contest with student-designed flags now on display in the building. Winners were Grace Krelovich and Anushka Chandrate. Their designs are below: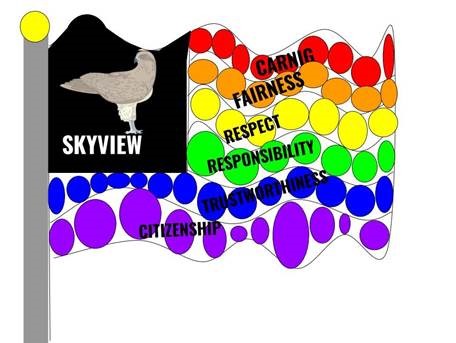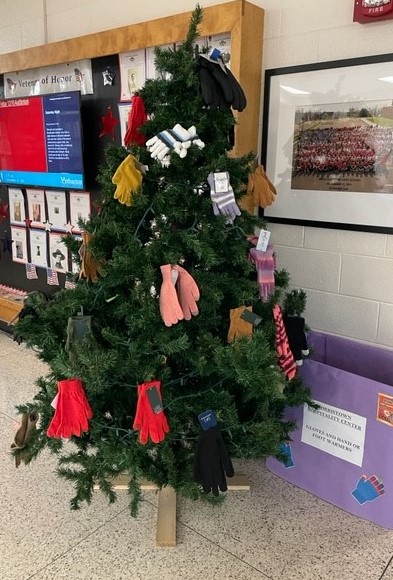 Skyview's Shaun Permar was honored by the College Settlement Camp on November 7, 2020 with The Dave DeRosa Outdoor School Award, for his efforts related to working with students and promoting and coordinating the Outdoor School experience. Skyview staff and former students created a congratulatory video.
The Daily Bread Food Pantry met with Skyview students to share the mission and operation of their organization. Food donations were gathered and delivered. Students created cards of appreciation for frontline staff at Einstein Hospital.
Mrs. Amy Eraydin, Reading Specialist, created an 8th period book club providing students who do not typically read on their own time the opportunity to read novels in a small social setting. Love To READ!!!
The Methacton Theatre Company had a hugely successful fall play entitled "The Laramie Project" on January 14, 15, and 16 that incorporated 30+ high school students in the cast. This was the first-ever streamed play conducted by the students that sold nearly 200 tickets for the viewing.
A huge congratulatory shout out to all the Instructional Assistants and Personal Care Aides - they have done outstanding work this school year supporting our students and staff in the in-person and virtual environment.
The R.E.A.C.H clinicians have been providing both in-person and virtual therapy for our students who participate in this program as well as providing valuable resources for our building administrators, staff and families to support our students during challenging life events.
Worcester Elementary will be celebrating World Read Aloud Day (February 3) via social media with guest authors from all over volunteering their time to virtually meet with students to share and discuss their books.
School counselor Shannon Snyder, and reading specialist Jen Slater introduced the book, The Energy Bus for Kids, to students at Worcester Elementary School as part of the "One Book, One School" initiative in celebration of Read Across America week.
Parent volunteer Dr. Risa Roland, is sponsoring this year's Girls on the Run program virtually. In collaboration with three additional volunteers, thirteen 3rd and 4th grade girls are registered to participate in this exciting virtual event.
Methacton High School Sophomore Aidan Samsel participated in the Bethesda Project where Philadelphia community members pay $25 for volunteer artists to draw their home. The event took place over the month of November in celebration of National Hunger and Homeless Awareness Week. All proceeds go to feed the homeless in neighboring communities in Philadelphia.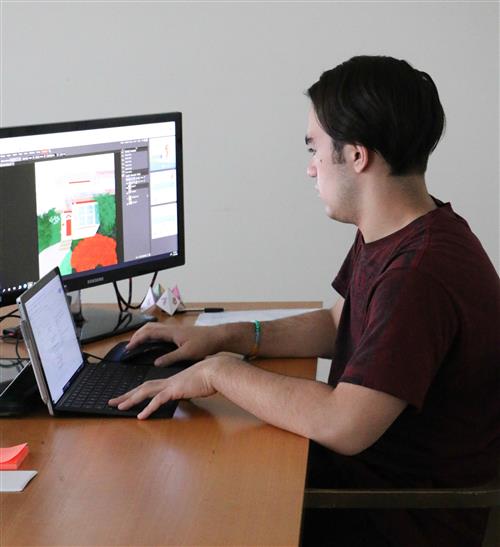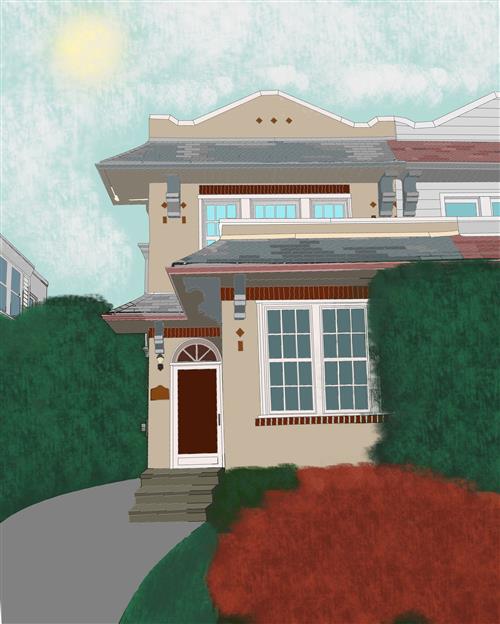 Leadership by the High School Student Council in conjunction with the class sponsors of each class, hosted a drive-in Homecoming at the facility in Oaks where carloads of MHS students and families watched the Homecoming football game projected on the big screen. Halftime festivities included members of the Homecoming Court parading through the parking lot in open air Jeeps followed by the crowning of the Queen and King. A most remarkable and memorable activity.
A Woodland Elementary kindergarten student won a poster contest on MLK initiated by the Lower Providence Police Department. She received an award by Chief Michael Jackson for her response to "What does equality look like to you?" She created a poster about all humans being friends regardless of what they look like.
Teachers across the district are producing videos celebrating our good work and using video's to help with the learning process. Mrs. Engler, music teacher, created this video with kindergarten students: https://youtu.be/FnG-YVbcRj0
Given tremendous obstacles, the High School administration and teaching staff were able to provide the PSAT to students in grades 11 and 10. On the same day, students in grades 9 and 12 participated in virtual presentations with guest speakers on topics including financial literacy, entrepreneurship, the trades, human resources and employability, workplace etiquette, and stress management.
The Methacton Education Foundation has generously pledged funding for the incorporation of the program "Uncharted Learning" in the MHS Entrepreneurship class. Many good things are on the horizon at the high school.
MHS Senior Patrick Li was selected to the National Association for Music Education All Eastern Concert Band. Patrick completed a series of rigorous and competitive auditions to be chosen for this prestigious honor.
Michelle Stead, special education teacher at Arcola, is making extraordinary efforts in supporting her students this year. She collaborates with students, parents, teachers, and the support staff to ensure everyone is working toward the same goals.​​
The high school and Arcola have updated their digital hall pass system to accurately record the list of students on premise each day and leverage it as an additional mitigation strategy.
Arrowhead Elementary grade 2 students and families shared their multicultural holiday traditions via zoom across the entire grade level.
Arrowhead Home and School is leading the 3rd annual Kindness Project where students will make Valentine's Day cards to brighten the day of residents from 3 Senior Living Centers in Collegeville! Slideshow of this to come…
The Arrowhead staff collected 83 pounds of food, personal care items, and cleaning supplies for the Daily Bread Food Pantry. Staff have been donating to the Daily Bread for the past 4 years.
The class sponsors and the class of 2021 officers have launched the Methacton class of 2021 Instagram page. They are working in conjunction with administration on a senior outdoor event to occur in May (details to come). Furthermore, yard signs are in the works to be created and distributed to our senior students/families.
Methacton's Paul Lepre worked with the life skills autistic support program students to do a monthly kindness challenge and the kids painted "You Rock" rocks and distributed them to staff.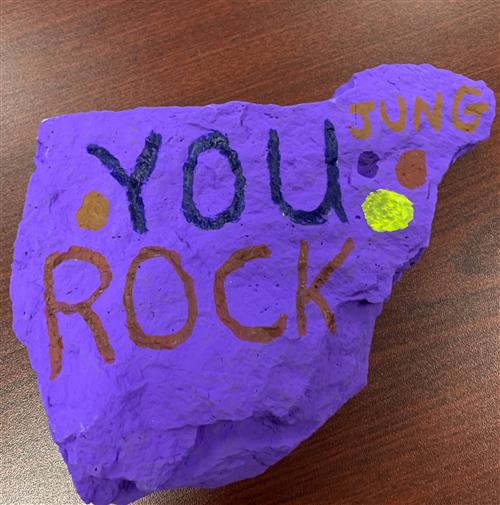 Eagleville held their Methacton Family Sing-A-Long and the 4th grade band and orchestra have assembled a small Winter celebration. The students have worked very hard over the past several months preparing and we are excited to share the Winter celebration with Mrs. Basalik-Arrowhead Orchestra Director, Mrs. DiRenzo-Arrowhead, Eagleville, Woodland, & Worcester Band Director, and Mx. Shuey-Eagleville, Woodland, & Worcester Orchestra Director. As an annual tradition, Eagleville honors our Eagleville Veterans virtually this year: https://youtu.be/-Jvw9fwEeW8
Maybe I got carried away in this message. Maybe I just wanted everyone to know that there are so many amazing accomplishments, extraordinary events, and a growth in all of us as a school community. We always have a lot of hard work ahead of us. Still we can be proud and appreciative of all that we have accomplished and the opportunities that lie ahead.
Keep up the good work and thank you Methacton Community for your continued support and commitment.
Sincerely,
Dr. David Zerbe
Superintendent of Schools