Return to Headlines
GRADUATION INFORMATION CLASS OF 2023
GRADUATION INFORMATION – CLASS OF 2023
The following graduation information is of extreme importance. Please be sure to read through it and follow all the directions. Your cooperation will ensure a successful and positive commencement.
Thank you and we look forward to seeing you for this culminating Methacton tradition!
Graduation will be held on Tuesday, June 13, 4:00 p.m. at Methacton High School Stadium.
The stadium seating area (bleachers and grass areas on the hill) will be open at 3:00 p.m. on a first-come, first-served basis. No early reservation of stadium seats will be permitted. Guests are permitted and encouraged to sit on the grass hill, providing their own seat/blanket, as bleacher seats are limited.

The ceremony will also be streamed live online.
Every attempt will be made to hold the event outdoors, including adjusting the start time if needed.
In the event of inclement weather, the decision to hold the ceremony indoors will be made
by the Administration by 10:00 a.m. on June 13.
The Methacton School District website will carry the announcement as soon as it is made
and will include additional details as needed.
Each family will get a total of six (6) tickets for Commencement that will be required for entry: Two (2) special tickets that work for inside (if applicable) and/or outside, along with (4) tickets for outside only.
Due to spacing restrictions, IF the ceremony is moved indoors – only two (2) guests are permitted inside (using the special tickets noted above) and all other guests are asked to watch the streaming of the event from home or at a local establishment. We do not have the capacity to honor more than two guests per graduating senior inside. (Your senior does NOT need a ticket as they are included in the procession. Tickets are only for guests.)
Tickets will be distributed during the rehearsal on Friday, June 9, 2023 at graduation practice.

ONE car pass

will be provided to each senior/family for parking on the High School grounds.

Requests for additional tickets cannot be honored due to limited space

. Students should
ask classmates if they have extras.
Handicapped Seating and/or Handicapped Parking:
Requests for family members in need of handicapped seating and/or handicapped parking must email the Principal's Office by Monday, May 1, 2023 at graduation@methacton.org so we have the ability to reserve the space. The email should indicate the graduate's name, a contact telephone number, and if the request is for seating arrangements, parking or both. Any requests after May 1, 2023 will not be honored.
For handicapped seating, the student will be given a handicapped ticket indicating the guest and one additional person who will sit in the handicapped seating section. Please note: the handicapped section is only for the handicapped person and a guest; this is not for the entire family.

Handicapped seating will be located on the track and in the last row of the stadium bleachers. Due to the limited seating on the track, additional seats in this area for other family members is not available.
Handicapped parking passes may be issued allowing one car to park in the parking lot closest to the stadium. (*Please note: the handicapped parking space is in lieu of the general onsite parking.)
If the event is moved indoors, if the person in need of handicapped seating is one of the two guests in the gym, we cannot guarantee a companion is able to sit with him/her as space is extremely limited in the gym.

Please keep in mind, the weather can be quite hot in June. Guests who are sensitive to
the heat may wish to view the ceremony at home (if within the district) on local cable
station or via the internet from any location through online streaming.
Parents and Family:
Each senior will receive one parking pass to be used by the family to park on school
property.
Additional cars should park at Fairview Village Church, 3044 W. Germantown Pike and
use the shuttles to the school. Please use the main driveway, not the driveway by the
barn. The shuttles will be available every 15 minutes to transport you to the High School
beginning at 2:45 for our families and guests.
These buses will be available to you after the ceremony to return you to your car.

Please report to the offsite lot before 2:45 p.m. to insure that you do not miss the shuttle bus to the cafeteria.
If you are being dropped off at the high school, the drop-off location is the east wing

and
you must be in the cafeteria by 3:15 p.m..
All seniors must be lined up by 3:45 p.m..

The procession begins at 3:50 p.m. SHARP.
Students are not excused from ANY rehearsals. Students who do not attend all rehearsals
may not participate in graduation. Please note that failure to satisfy all obligations by the
deadline may result in missed rehearsal. This is not excused.
All seniors will report to school

as per their individual final exam schedule on June 8 & 9. In the event a senior does not have a final exam, they may arrive late to school and report directly to practice. Students will be asked to sit in the study hall until we dismiss to grad practice.

Please do not schedule any conflicting appointments for medical, dental, or other services
during the mandatory Commencement rehearsals on June 8 (11:40 a.m.), June 9 (9:30a.m.) and June 13 (9:30a.m.).
Seniors will be dismissed home after graduation practice with their own transportation.
A Senior must have successfully completed all requirements for graduation (including a
minimum of 23.5 credits in the prescribed courses and demonstration of
proficiency/progress toward State Standards). If not, they will not be permitted to participate in the Commencement exercises. There are no exceptions to this rule.
Students must return their books, calculators, or other similarly assigned materials on June 7, the final "regular" day of school. Chromebooks and chargers may be returned to the library as early as Monday, June 5 if they are not needed for exams. Students will also be able to return their chromebooks and power adapter during 1st or 2nd exam sessions/ before practice, on June 8. If they do not have the item, a check can be written to Methacton School District to satisfy the obligation ($65 Chromebook; $23 power cord). We encourage all students to be responsible and on time with these obligations.

Seniors

must satisfy all obligations, INCLUDING FINANCIAL OBLIGATIONS (Food Service POS debt, fees for unreturned books, equipment, uniforms, parking fines, restitution, and/or other items owed) and outstanding detentions to participate in graduation. Students with any outstanding obligations will not be able to participate and final transcripts may not be sent to colleges until the obligations have been satisfied.
All graduates will wear a Methacton Green cap and gown.
Attire options:
Dress pants, dress shirt or blouse; tie for those wearing a collared shirt (no string ties please); dark socks; dress; skirt with dress shirt.

No jeans.

Dress shoes are to be worn. No slippers, slides, etc., please.

No (spike) high heels as it will damage the field. (Lower wedges can work.)

No excessive jewelry, flowers, or corsages for the ceremony.
Failure to follow these guidelines will keep you from walking with your class.
Pin the tassel to the cap and wear the tassel on the RIGHT side, in the center of the straight edge of your cap. (Hats are marked inside so you know the front and the back). During the graduation ceremony, tassels will be moved from the RIGHT side of the cap to the LEFT side of the cap at a pre-determined time. This will be practiced at rehearsal.
Photographers are NOT permitted to leave the stands to take pictures

. Lifetouch photographers will be on hand to capture the moment each student receives his or her diploma. Photos will be online at events.lifetouch.com ten days after the ceremony. Visit events.lifetouch.com to receive notification when your proofs are online and ready to order.

Please refrain from prolonged applause, cheering, whistling, air horns, and other such behavior while graduates are presented. Such behavior detracts from everyone's name being heard. This is a formal and special event to mark the culmination and success of every graduate. In this way, everyone has the opportunity to relish this very special occasion.

Students who engage in disrespectful, distracting, or inappropriate behavior during the ceremony may be removed from the ceremony by the administration and the diploma and student records withheld until appropriate disciplinary consequences are completed. Adequate time and opportunity will be afforded during the ceremony for the class to celebrate this serious and important formal ceremony. Disrespect and disorderly conduct will not be tolerated. We appreciate your support of this important culminating event.

Students, no chewing of gum during the ceremony, please.
Diploma & Cumulative Records Distribution - After the Ceremony
During the ceremony, your senior's name will be called, he/she/they will individually process across the stage, our photographer takes their pictures, and seniors receive an empty diploma cover at that time. The distribution of diplomas along with health records, and other academic records occurs in the cafeteria, immediately following the ceremony. This area will close one hour after the end of the graduation ceremony. Diplomas that are not picked up will be available in the Counseling office during regular business hours.
Please Note: These are the ONLY copies of these records so please keep them in a safe place as
replacements cannot be made available because copies do not exist
Students who are NOT participating
If you have decided NOT to participate in our graduation ceremony, please email: graduation@methacton.org by May 1, 2023, so that we can pull your diploma for you and arrange a pickup time and location. **We will be creating the lineup for students and appreciate you letting us know if you will not be participating so that we are able to accurately assign seats.
Graduation Parade
We will continue with our tradition of the graduation parade through our elementary schools on Thursday, June 8, after graduation practice. Participation in the graduation parade is voluntary. For any senior wanting to participate in the graduation parade, you need to sign up and pick up a permission slip from the East office by June 7. The signed permission slip will be your ticket onto the bus. On June 8th, we will leave MHS at the conclusion of graduation practice (approximately 1:00pm). There will be a bus for each elementary school. Seniors will parade through the elementary school, and then will take the bus back to the high school. Bus transportation is the ONLY OPTION for participation. Home and School will have a snacks prepared for before seniors leave for the parade. Seniors who participated in the parade will then be dismissed home with their own transportation once they return to campus. (*Students who do not want to participate in the parade are dismissed home at the conclusion of graduation practice.*)
Voice of the Class
Several years ago, Methacton created a speaking position at Graduation called "The Voice of the Class." All students in the Class of 2023 have the opportunity to be chosen as the "Voice of the Class." Any senior interested in applying for this honor, must completely write his/her/their intended speech and submit it to Dr. Gravinese and Mrs. Deegan via email (jgravinese@methacton.org; ldeegan@methacton.org) by 3:00pm on Friday, April 14, 2023. All submitted speeches will be anonymously reviewed by a committee of teachers, staff and select members of the Class of 2023; The Voice of the Class will be chosen from among those submissions. If you have ever dreamed about giving a speech at Graduation, this may be your opportunity!
Yard Signs:
A Message From Post Prom:
Celebrate your graduate while supporting Post Prom and order a PERSONALIZED LAWN METHACTON GRADUATION SIGN for just $20.00 It's easy, just complete the google form below and pick up details to follow at a later date. Deadline to order will be Friday 4/14/2023.
Please note, participation is voluntary. For any questions, please contact post prom.
https://docs.google.com/forms/d/e/1FAIpQLScRe7xCqZ9TNLd9E9l5v6WwnPUeK8Lb1WjurSsbKdooQMaoNA/viewform?usp=sharing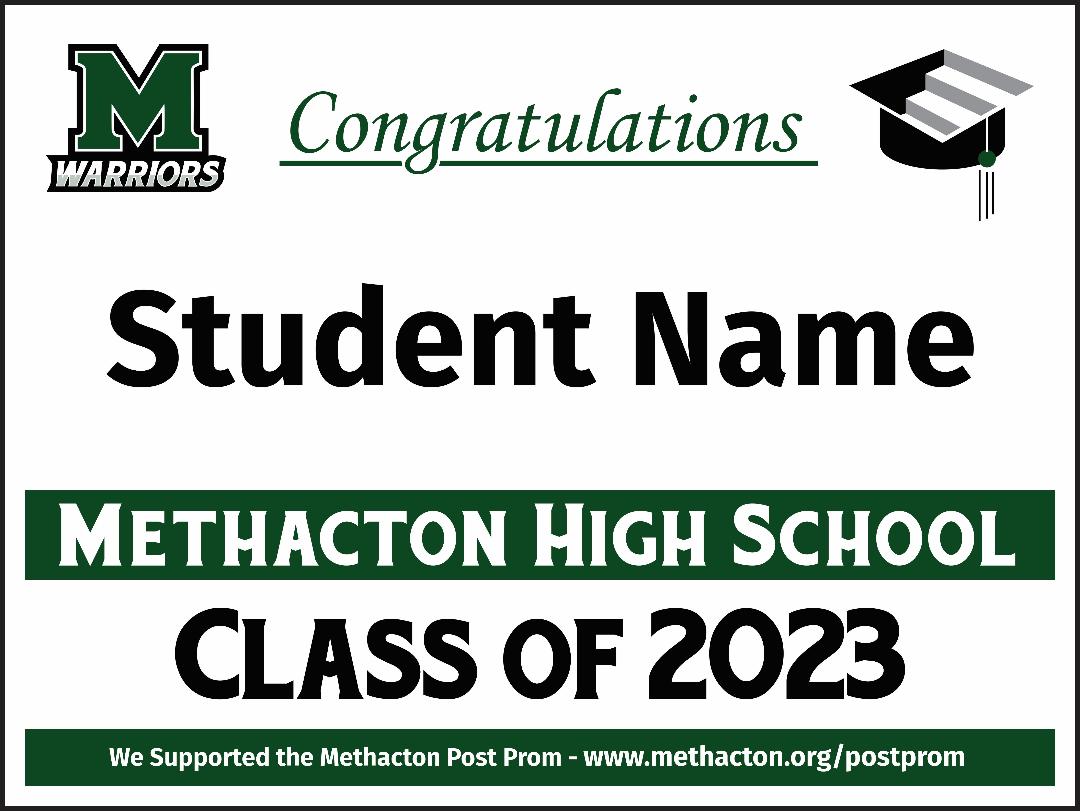 Special Request:
We respectfully request the help of parents and families to help our graduating seniors exercise good judgment and self-respect in their appearance and behavior during Graduation. Like you, our school community looks forward to celebrating the successful completion of many years of hard work by your sons and daughters as well as you, their support system. There will be time after the official ceremony is over for the celebration to take place. We are asking for your help to insure that we can conduct a formal ceremony of which we can all be proud. Therefore, we are requesting your cooperation and help with your graduate. If any member of the class fails to abide by the standards set for these ceremonies, he/she will not be permitted to participate, and that is not a decision administration wants to make.
Thank you for your cooperation and assistance.
We look forward to enjoying a memorable event!